How To Be A Considerate Neighbor
Whether you're a fresh face in the community or have called The Quad your home for many months, having new neighbors is all a part of the apartment-living experience. While it's easy to avoid being a bad neighbor, being a good neighbor is typically more involved and requires a bit more work.
Thankfully, our team here at The Quad On Delaware is here to help. Follow these tips on how to be a considerate neighbor and make the best out of your time at our UMN apartments.
Start With A Friendly Introduction
Getting to know your neighbors is the first step into forming a friendly community, and by association, being a good neighbor. A warm introduction doesn't have to be anything over the top — something as simple as a friendly greeting while passing in the hallway can go a long way. If you're feeling exceptionally friendly, a small welcome gift, such as baked goods, can be a great way to break the ice and get to know your neighbor.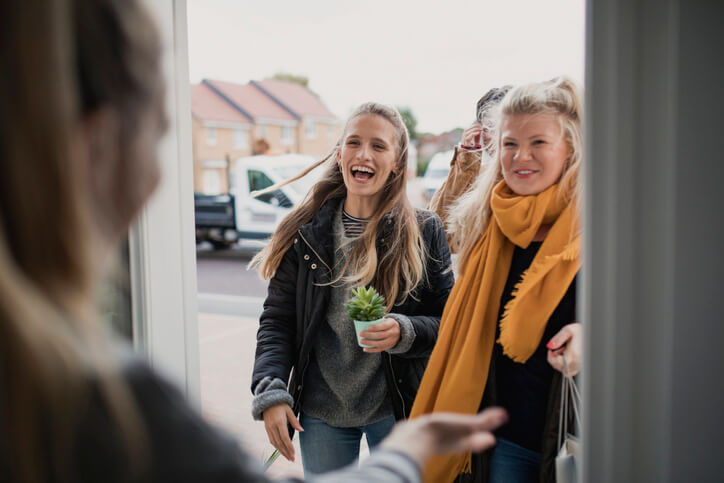 Keep The Noise Under Control
If it's your first time living in an apartment community, you're likely used to having more space between you and your neighbors. After all, most suburban homes tend not to share an adjoining wall between units. Due to this proximity between residents, try to be courteous when it comes to loud noises or excessive noise at late hours. We've designed our modern floor plans to reduce noise pollution between units. Still, turning down music and keeping noise to a reasonable level is a great way to stay on the neighbor's good side.
Host Friendly Social Events
Organizing a small event is a great way to connect with fellow residents. Try not to over invite guests, though, as too many unfamiliar faces in one place can be a bit overwhelming when meeting somebody new. On the other hand, too few guests can make the interaction a bit too personable and awkward if everyone doesn't hit it off right away. Aim for a nice middle ground, and see if you can get multiple neighbors and roommates in on the social hangout. Order a pizza, find a party playlist on Spotify, and get to know your fellow peers in a laid-back environment. Prefer not to have a gettogether in your home? We offer plenty of amenities, including a 24-hour game room, to help you make friends and bond with fellow residents.
Be Mindful Of Pets
At The Quad, we love our residents' pets as much as they do. Nothing makes home feel like home quite like being greeted by a fluffy companion when you open the door. Unfortunately, we can't spend all day inside with our pets. They can easily get into mischief or other attention-seeking behaviors while we're gone. If your dog likes to bark or your cat likes to meow while you're away, this can be disruptive to neighbors. To alleviate these behaviors, make sure to give your pet plenty of attention and plenty of playtime throughout the day. Also, be mindful when taking your pet out for a walk. An overly-friendly sweetie pie could be disruptive to residents who may feel apprehensive about strange dogs or be bothersome to those with allergies.
Have Open Discussions
Let's face it — things aren't going to be perfect with your neighbors at all times. Someone's going to eventually play music at odd hours or have too many guests over too late into the night. It happens, but it doesn't have to be a difficult situation to handle. By being open, upfront, and willing to discuss with neighbors from the get-go, you're building a friendly environment. With straightforward communication, you can resolve issues before they grow into much larger problems.
---
Join a community with plenty to offer and schedule a tour of our apartments near University of Minnesota today!