Living Near UMN? Here's Where To Go
Known for its thirteen scenic lakes, vibrant performing arts centers, a lively music scene, and a plethora of decadent local eateries, there's no shortage of breathtaking experiences awaiting a UMN student in the Twin Cities.
But with so many exciting things to see, do, and taste, it's hard to know where one should begin. So, to help provide a bit of guidance, we at The Quad On Delaware have compiled a list of must-see locations near the University of Minnesota.
Contact us today to schedule a tour of our student apartments in Minneapolis!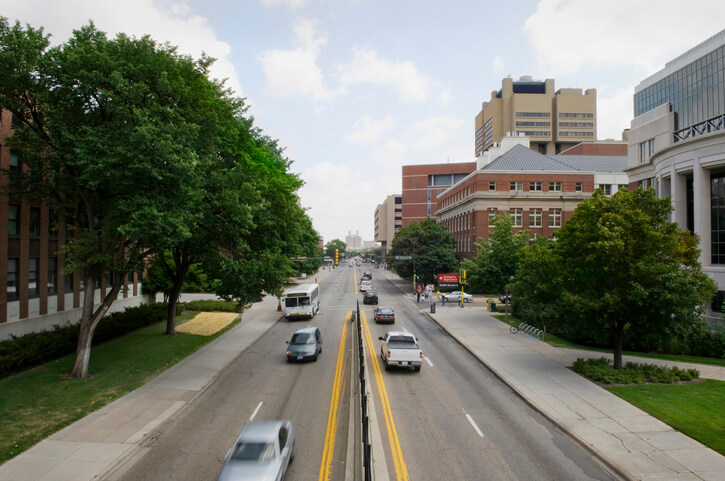 Fun Things To Do In Minneapolis, MN
Bask In Nature
Minneapolis is host to one of America's finest public park systems. With parkland accounting for over 16% of the city's area, every resident is within walking distance from a park. Walk, run, or bike through the Chain Of Lakes, a sprawling paved pathway that circles the city's four largest lakes. Prefer a good old-fashioned hike to the urban wilderness? Check out Winchell Trail for a rustic hiking experience complete with gorgeous views from steep bluffs. Also, pet owners should head down to Minnehaha Off-Leash Dog Park to let their furry companion socialize and play with other dogs across six-acres of partially fenced greenspace.
Experience Fine Art & Music
Thanks in part to the influence of musical icons such as Prince and Bob Dylan, who both once called the Twin Cities home, there's a myriad of exceptional local venues where residents can enjoy live music across all genres. First Avenue regularly hosts celebrated artists, and the Icehouse has shows highlighting local talent every night. Looking for somewhere to quietly ponder a piece of modern art? The Weisman Art Museum boasts a vast collection of contemporary works that celebrate the city's culture and heritage. For those who love the performing arts, the award-winning Guthrie Theater is the perfect place to attend a play.
Catch A Game
Whether you've always been a sports fan or just want to show some school spirit by cheering on your fellow Gophers, there are plenty of places to catch a game near UMN. TCF Bank Stadium is home to UMN's very own Minnesota Gophers and one of the nation's largest video boards, making it a great place to watch a football game. To see the Minnesota Vikings play, head down their home field — U.S. Bank Stadium. Also, if you're going to live in Minnesota, you have to experience a hockey game at least once. 3M Arena at Mariucci is where the Golden Gophers men's team plays, and Ridder Arena is where the women's team plays.
Must-Try Eats Near UMN
Al's Breakfast
With only room enough for a dozen countertop seats, Al's Breakfast is a tiny diner that packs big flavor into simple breakfast dishes. Only minutes from our UMN apartments and campus, this local hotspot is great for grabbing an early morning bite with friends before class.
Baldy's BBQ
UMN students will feel right at home in Baldy's BBQ, not just because the walls are lined with Gopher memorabilia but also because they get a sweet discount. Students can enjoy a drink, sandwich, and side for only $6.50!
Annie's Parlour
Located in Dinkytown, right above the Kitty Cat Klub — Annie's Parlour offers delicious burgers, hand-cut french fries, delectable dipping sauces, and refreshing milkshakes. Stop in for some tasty, cheap eats next time you're exploring downtown.
Sebastian Joe's Ice Cream Cafe
Have a sweet tooth? Then you'll love Sebastian Joe's Ice Cream Cafe! This beloved local shop is known for its seven signature ice cream flavors, assortment of fresh-baked treats, and exceptional coffee blends.
Quiet Study Spots For Students
Architecture Library
There are plenty of excellent study spots on the U of M campus, but the Architecture Library is among the best. Located in Rapson Hall, this library is lesser-known and, subsequently, much quieter than other on-campus study spots.
Private Study Rooms
Residents of our UMN student apartments get to make use of a plethora of student-centric community amenities, including private study rooms. These private rooms are great for hosting study groups with nearby peers!
UMN Student Apartment Bedrooms
Each of our apartment floor plans features individually-keyed bedrooms with en-suite bedrooms. These features cater to students' academic needs, providing a secluded, distraction-free environment for those late-night study sessions before a big exam!